PROJECT GOAL

Multi disciplinary project for trust management scheme in

spontaneous networks

for establishing trust among parties that have no a priori relationship.

General idea is to derive

from human social system

a dynamic

trust model

that can be technologically feasible and socially accepted.

Ambient networks are composed of nodes without infrastructure => Gradual need of trust according to services, network topology,…
Identification problems : State of art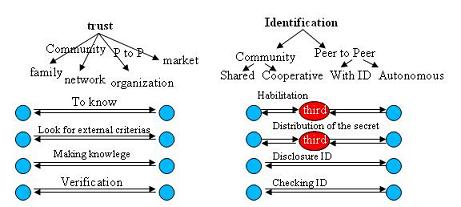 Imprinting stations:

provide a

KAA package

that gives to nodes an initial seed of trust composed of cryptgraphic materials, of an indentity and of a pair of secret/public keys. They define

security domains.